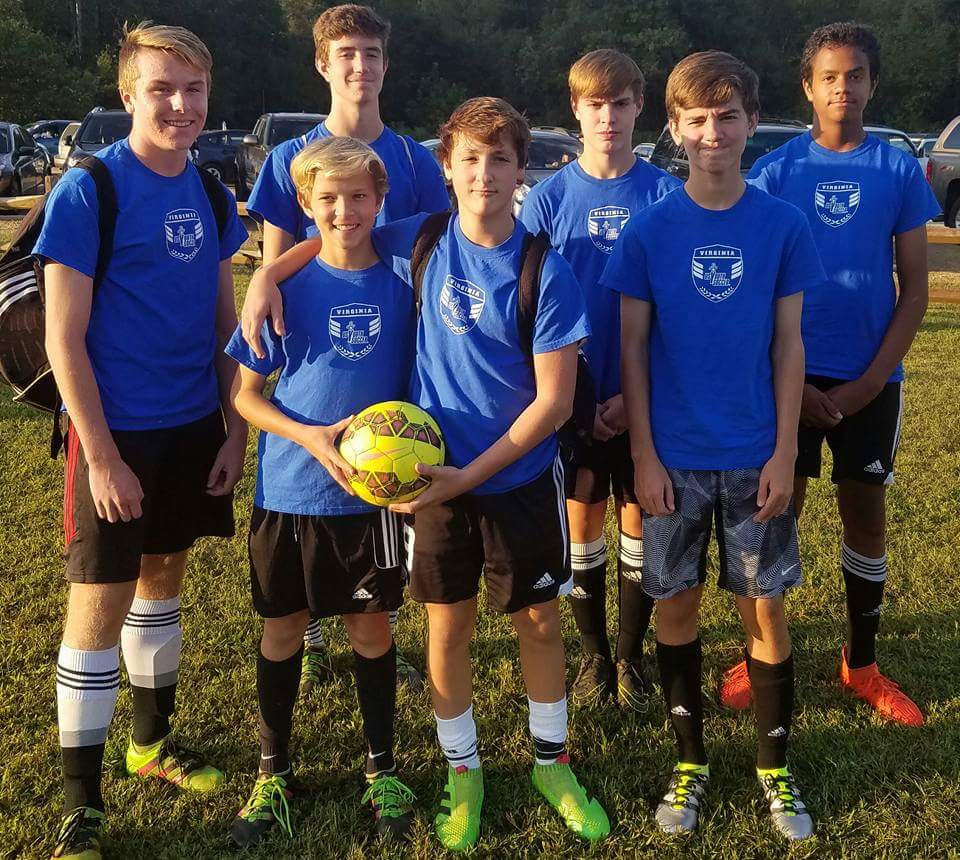 [Fluvanna Boys Ready for Olympic Development Program Training]
Travel Soccer Overview
Travel soccer is for the player (and family) that wishes to play soccer at a higher level of competition. Players try out and are invited to a team. All player's ages are verified through official documentation (i.e. birth certificate) and players are officially carded through the Virginia Youth Soccer Association.
** Click here for a video on why you may want to consider travel for your developing player. **
Season Details
Season: A Travel Season is Two Periods: August-November & February May
( It is generally understood that if you sign up for travel you are agreeing to two periods. However, there are instances where some kids only play one period because they are involved in other activities. This is typically worked out with your individual coach.)
Cost:
April 2023: Travel costs TBD, Fees will be determined by tryouts at the end of May 2023.
Practices:
Practices are typically two days a week, sometimes more, and may last as long as two hours. There are usually two or more coaches per team.
Playing Time:
Playing time in a game is not guaranteed. Players earn playing time and the amount of playing time is decided by the coach.
Virginia Premier Soccer League & Games:
FYSA Travel teams play in a regional league named the Virginia Premier Soccer League (VPSL). The teams within the VPSL can change from year to year. You can view the VPSL website by clicking here
Games are held on the weekend, usually on Saturday afternoons after the recreational games have been completed, and sometimes on Sunday. FYSA home games are usually held at Fluvanna High School. Away games are held at the opposing team's facility.
Tournaments:
Tournaments are a part of the travel soccer experience. Travel teams will participate in at least two tournaments a season and the cost are covered by the fees. If a team wishes to attend more tournaments, they may be responsible for raising the funds to do so.
Tournaments typically consist of at least three games, two on Saturday and one on Sunday. If a team does well, they may make it to a fourth game on Sunday afternoon.
If a tournament is some distance away or if a tournament schedule requires an early game, then you may need to purchase a hotel room for a night or two. This is an additional cost that is not covered by the fees.
2023- 2024 Travel Tryout Schedule:
Tryouts for the Fall 2023 & Spring 2024 travel season will be conducted during the dates below. If you have specific questions about our travel program, please contact Tom at fysaforce@aol.com
To Pre-Register email: fysaforce@aol.com.
Players are required to check in at tryouts. Send the player's name, email, and birthdate. Field registration will begin 15 min before the start time. Please do not be late.
2023-2024 Travel Tryout Schedule:
Location Address: Pleasant Grove Park Soccer Fields, Fluvanna County (Right next to Fluvanna County High School)
Girls Tryout Schedule:
| | | |
| --- | --- | --- |
| Age Group (Birth Year) | Date | Time |
| 2014 Girls | May 21 | 1:00-2:00 |
| 2013 Girls | May 21 | 1:00-2:00 |
| 2012 Girls | May 21 | 1:00-2:00 |
| 2011 Girls | May 21 | 2:00-3:00 |
| 2010 Girls | May 21 | 2:00-3:00 |
| 2009 Girls | May 21 | 2:00-3:00 |
| 2008 Girls | May 21 | 3:00-4:00 |
| 2007 Girls | May 21 | 3:00-4:00 |
| 2006 Girls | May 21 | 3:00-4:00 |
| 2005 Girls | May 21 | 3:00-4:00 |
Boys Tryout Schedule:
Age Group (Birth Year)
Date
Time

2014 Boys

May 21

1:00-2:00

2013

Boys

May 21

1:00-2:00

2012

Boys

May 21

1:00-2:00

2011 Boys

May 21

2:00-3:00

2010

Boys

May 21

2:00-3:00

2009 Boys

May 21

2:00-3:00

2008

Boys

May 21

3:00-4:00

2007 Boys

May 21

3:00-4:00

2006

Boys

May 21

3:00-4:00

2005

Boys

May 21

3:00-4:00